The Importance of Understanding and Following Hurricane Evacuation Orders in the Event of Severe Weather
8/8/2022 (Permalink)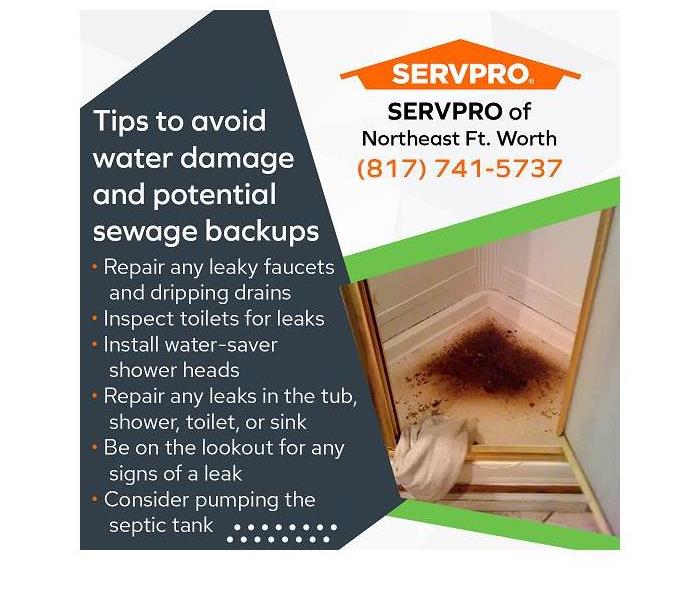 Blog Summary: SERVPRO of Northeast Fort Worth shares information to help local residents communicate the importance of evacuation to family and friends who live in the path of an oncoming hurricane.
The storm damage cleanup and restoration professionals at SERVPRO of Northeast Fort Worth stress the importance of understanding and following evacuation orders when hurricane landfall is imminent. Although Fort Worth is not a coastal city, Northeast Fort Worth residents may have family members or friends who live on or near the coast of Texas, Louisiana, Alabama, Mississippi, and Florida and who are in the path of an approaching hurricane. An estimated 7 million people live in the Gulf Coast region of Texas and will need to evacuate their homes to stay safe during the severe weather.
Information gathered after Hurricane Katrina illustrates how many people can be affected by a major hurricane. "The storm displaced more than a million people in the Gulf Coast region. Many people returned home within days, but up to 600,000 households were still displaced a month later. At their peak, hurricane evacuee shelters housed 273,000 people and, later, FEMA trailers housed at least 114,000 households. The population of New Orleans fell from 484,674 before Katrina (April 2000) to an estimated 230,172 after Katrina (July 2006) — a decrease of 254,502 people and a loss of over half of the city's population."
Although Texas avoided any direct impact from Katrina, an estimated 220,000 people from Louisiana sought refuge in Texas. Fort Worth is not a coastal city, but residents may have family members or friends who live on the coast, are in the path of the hurricane, and will need to evacuate. When opening one's house to evacuating friends and family, extra stress may be put on the plumbing system, placing the home at risk of flooding unrelated to the hurricane.
The tips listed below will help homeowners prepare for additional guests and avoid water damage and potential sewage backups.
Tip: Repair any leaky faucets and dripping drains.
Tip: Inspect toilets for leaks. Replace any parts that are showing signs of wear. Rusty chains and hard flapper valves are quick fixes that can save many, many gallons of water.
Tip: Install water-saver shower heads. Unclog slow-moving shower drains, and inspect the caulking and seal around the drain. Replace worn seals. Remove old caulking and replace it with a fresh bead. Repair any broken shower or bath tiles. The caulking around the tub may need some attention, as well.
Tip: If there is even a hint of a leak in an upstairs tub, shower, toilet, or sink, repair it before the guests arrive.
Tip: Be on the lookout for any signs of a leak. Look for water stains, bubbling or peeling paint, and warping in sheetrock and drywall. Listen for dripping, the sound of water continuously running, and gurgling noises in drains. Sniff the air for musty, moldy, mildewy smells. A faint smell of raw sewage inside the home could indicate a leaky sewer pipe in the crawl space.
Tip: Consider pumping the septic tank BEFORE guests arrive to pre-empt any messy situations, especially if it has not been pumped out in four years and usage has been heavy. Prices can vary widely depending on the size of the tank and the service provider. Make several calls. If the septic service will not provide a pricing structure, do not give them the business. Make another call.
Tip: Unclog any slow drains. Hair, grease, and soap residue can build up in the drains and slow down the flow of water, resulting in a backup and overflow.
Tip: Put down plenty of bathroom mats at the shower and tub to catch excess water spillage. Purchase an extra set of mats for when the water-logged mats are being washed and dried.
Tip: Immediately mop up any excess water that spills or puddles in the bathroom or shower.
Tip: Avoid overloading the washer with too many clothes or towels. Consider taking items to a laundromat with high-capacity washers and dryers, which will conserve water, energy, and time.
Tip: If severe weather in the form of a tropical depression or tropical storm is heading in the way of Northeast Fort Worth, inspect gutters, downspouts, and downspout extensions to avoid any water damage from overflowing gutters.
Tip: Pre-qualify a property damage cleanup and restoration company before guests arrive. Make the first call to the industry-leading professionals at SERVPRO of Northeast Fort Worth. The franchise is locally owned and locally operated by people who care about their community, their neighbors, and those who have been displaced by an evacuation order or by the destructive forces of a hurricane.
If, for some reason, a property damage disaster occurs while the host family is away, guests need only make one call to SERVPRO of Northeast Fort Worth, the service professionals that were carefully vetted by the homeowner.
For more information about storm damage restoration in Haltom City, TX, contact SERVPRO of Northeast Fort Worth at (817) 741-5737 or email office@SERVPROnortheastftworth.com